Better Together
From the beginning, we have explored opportunities to collaborate and connect with like-minded people who contribute to the wellbeing of our community. We're proud of our team and the rewarding relationships we've built with customers, employees, suppliers and brand and charity partners, based on shared values, reciprocal respect and trust.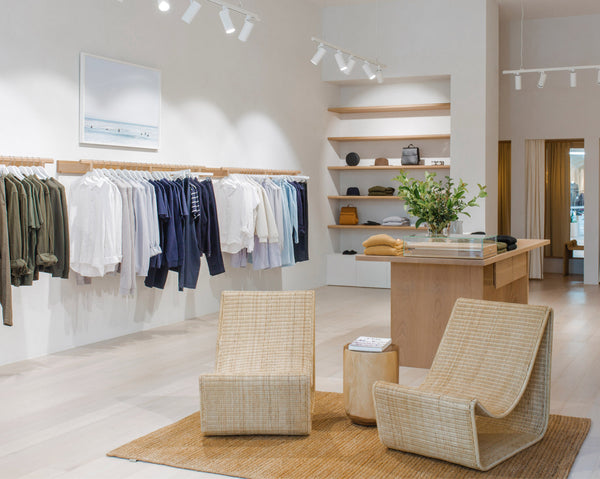 Our Team
All Assembly Label employees are representative of our brand. Believing that our success comes directly from the wellbeing of our people, we promote a balanced lifestyle and encourage our employees to take a Mental Health Day every quarter. We harbour a safe and healthy working environment where all are welcome and treated equally. We also support career development, offering clear incentives for employees to remain within our organisation, providing in-house and external resources for growth and education. Above all, we're committed to enacting mindful behaviours towards everyone and everything we work with, including employees, partners, customers and environments.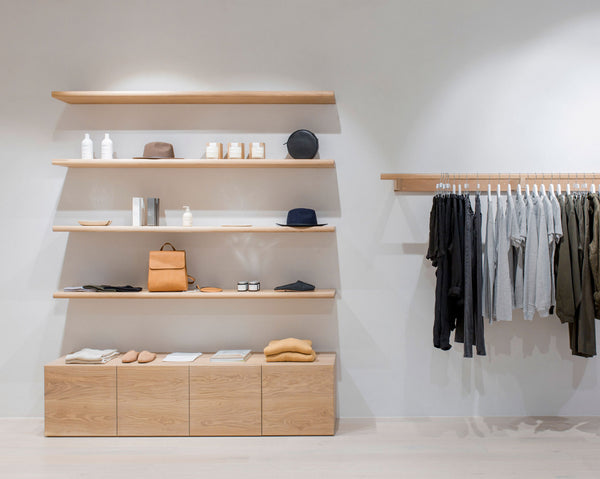 Our Stores & Workplaces
We acknowledge that built environments have a crucial role to play in supporting human health as part of everyday living. In order to create functional, beautiful spaces of enduring value, Assembly Label partners with local designers and architects on our retail stores and workplaces. To date, we've worked with Mr and Mrs White, We Are Triibe, Studio GOSS and CM Studio, all of whom share an appreciation for minimalist design. 
Branded Partners
To complement our clothing, we partner with like-minded brands to offer a thoughtful selection of lifestyle products, footwear, homewares and accessories.
$266,852.09
Has been raised in charitable donations, so far.
Designed as a way for us to give back, Choose What You Pay is the social initiative we run throughout the year to support our charity partners.
We release selected styles into collections and set a base price from which you can choose to pay more. Every dollar above the base is a donation, and the amount is equally matched by Assembly Label. Through our regular Choose What You Pay campaigns and other events, we're proud to be supporting the following organisations: 

The Smith Family
The Smith Family is an independent children's charity helping disadvantaged Australian children to get the most out of their education so that they can create better futures for themselves. In addition to financial support, we ran a Toy & Book Drive, engaging with our community to bring a new small toy or book to our local Assembly Label store. Our team also participated—each bringing in a gift to add to the collection. We donated all contributions directly to The Smith Family, who then distributed them to families and children in need. "With one in six Australian children and young people living in poverty, we're proud to contribute to such a worthy cause," Damien Horan, Assembly Label Co-Founder.

Total raised: $46,409.00

Curing Homesickness
Kids don't belong in hospitals; they belong at home. That's why we've partnered with Curing Homesickness, a fundraising initiative that brings children's hospitals and paediatric services from across Australia together on a mission to get kids home from hospital sooner.
We support Curing Homesickness by fundraising through our Choose What You Pay campaigns and 100% of the sales from our limited edition HOMESICK tees. "When I shared our idea for Curing Homesickness with colleagues at other children's hospital foundations across Australia, they immediately wanted to work with us to help every child get home sooner. We're so pleased Assembly Label joined us in supporting this campaign." Nicola Stokes, CEO of Sydney Children's Hospitals Foundation.
Total raised: $91,208.00

Australian Marine Conservation Society
The Assembly Label brand was built on an appreciation for the coastal lifestyle and environment, so it's only natural that we would endeavour to support the important work of the Australian Marine Conservation Society.
"We share a deep appreciation for the ocean, and partnering with AMCS is a way of ensuring we are contributing to its preservation. It was also important to us to align with a local enterprise with a distinctly Australian focus." Damien Horan, Assembly Label Co-Founder.
Total raised: $7,358

The Australian Red Cross
In 2020, we partnered with the Australian Red Cross Bushfire Disaster relief to support those displaced by the bushfires. The money raised through our Choose What You Pay campaign was distributed by The Red Cross through their Grants and Recovery program to individuals and families who had lost their homes.
Total raised: $57,914.00